WCMBHA TEAM BC 2019 FINAL ROSTER
---
---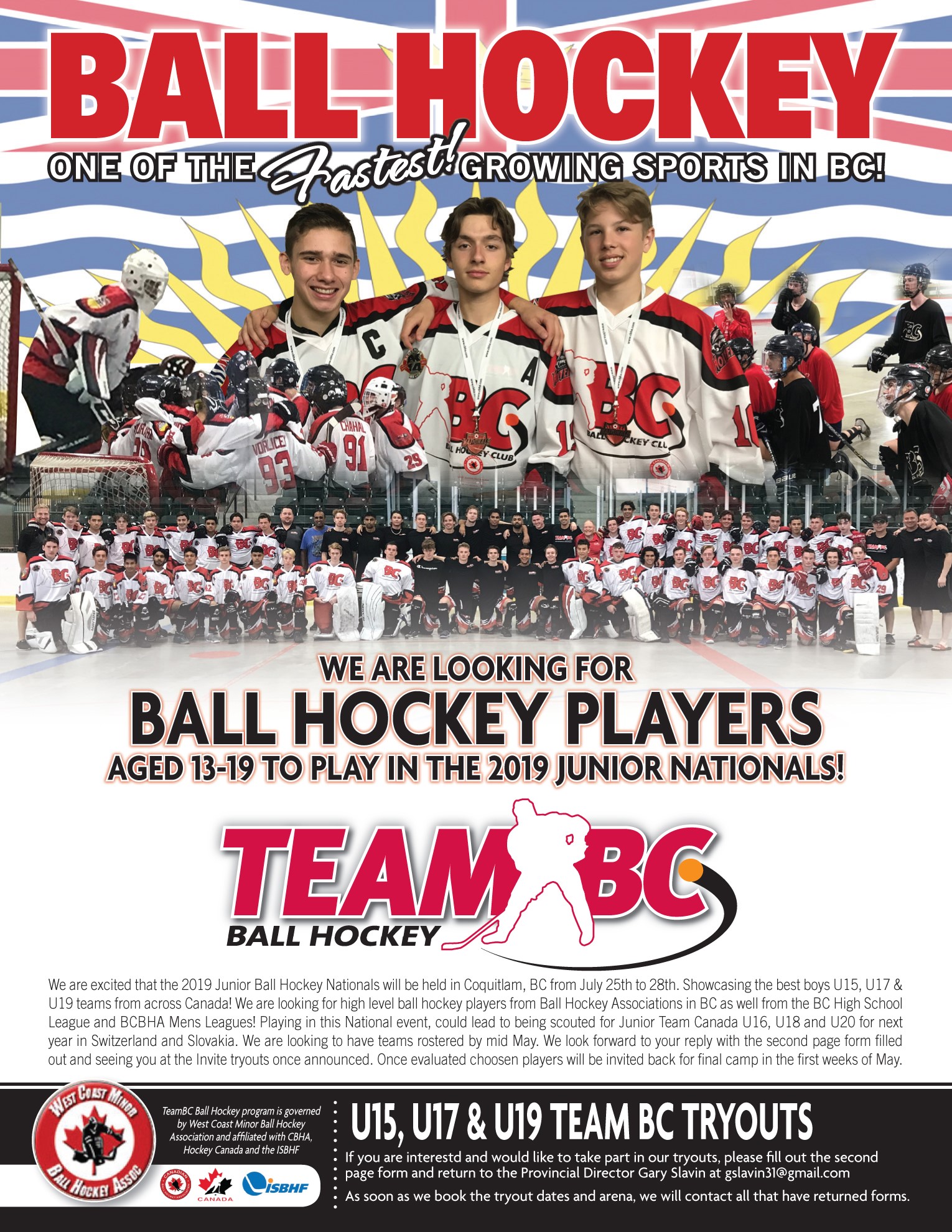 ---
Good Afternoon to all players and families,
After a 5 week tryout process in the Lower Mainland and Greater Victoria, and countless hours of evaluation ratings, review and meetings - on behalf of all the coaches and evaluators, I am pleased to announce the rosters for the six boys teams that will be competing at the upcoming Junior Nationals from July 25th to 28th in Coquitlam, BC
As director of the program for the past 12 years, I can honestly say we have great depth in BC and I am very excited to watch all six teams compete at the Nationals against all the other provinces. To date there are 8 teams registered in each division with teams right across Canada as far as Newfoundland coming!
I ask that ALL PLAYERS ON TEAM LISTS send in a separate email to gslavin31@gmail.com your acceptance and commitment to the team by May 20th. In subject line put player name and division. And text stating your commitment. Player fees this year for all players will be $475.00 and deposit schedule and information for payment will be sent out shortly after the May 20th deadline.
Congratulations to all, and I wish you all that were selected the best in preparing for the Junior Nationals!
Regards,
Gary Slavin
WCMBHA TeamBC National Director
U15 DIVISION

U15 TEAM BC

WOLVERINES

U15 DIVISION

U15 TEAM BC

BOBCATS

U15 TEAM BC

WOLVERINES

FORWARDS

Brendan Fleugal

Marco Giovinazzo

Jesse Kennett

Dryden Kuramoto

Rylan Mackie

Justin Osbourne

Daylen Peterson

Christiano Sebellin

Mattias Seganfreddo

Jase Temple

Eric Traversy

DEFENCE

Nayan Gurm

Tait Humphries

Joel Jordan

Kobe Kang

Mason Louie

Jaibir Sandhar

GOALIES

Markus Lam

Jack Makarewich

U15 TEAM BC

BOBCATS

FORWARDS

Mitchell Kinley

Aariz Bapoo

Colin Jang

Xander Klatt Curry

Nolan Pinel

Conner Kahle

Derek Leroux

Pacey Nelson

Logan Earle

Jordan Abulail

DEFENCE

Jack Church

Nalin Kaira

Ethan Phipps

Bicky Gundarah

Zack Gershman

Ethan Szeto-fung

Jacob Ma

GOALIES

Evan Friesen

Trent Clisby
U17 DIVISION

U17 TEAM BC

THUNDER

U17 DIVISION

U17 TEAM BC

STORM

U19 DIVISION

U19 TEAM BC

EXPRESS

U19 DIVISION

U19 TEAM BC

BLAZERS

FORWARDS

Fraser Lock

Kieran Strange

Gavin Pooni

Griffi n Mahaffey

Kaidan Johnson

Cole Moffat

Austin Ungurean

David Stepputat

Vincent Timperio

Duncan Judge

Brendan Chabot

DEFENCE

Edward Riddell

Mitch Shelton

Tyler Slavin

Matthew Johnson

Jack Westhaver

Hunter Jensen

GOALIES

Evan Jonsen

Adam Manji

FORWARDS

Kieran Smith

Rowan Zapisocki

Alex Lucchesi

Nathan Ivison

Shaan Bal

Dawson Nelson

Finnley Liberatore-Lloyd

Cole Bromehead

Sean Pander

Quinlan Walker

Matias Totz

Aidan James

DEFENCE

Lucas Mattson

Cody Hogarth

Caleb Douglas

Adam Benn

Tyler Sexton

Prabbjeet Bains

GOALIES

Carsten Shrimpton

Allen Gillis

FORWARDS

Arjun Raman

Landon McArthur

Jack Dickie

Damian Richards

Zack Whittaker

Jaden Kennett

Taj Grewal

Andy Westhaver

Jamie Dimitrijevic

Joshua Boelema

Jeevan Mangat

Sebastian Sandhu

DEFENCE

Markus Kott

Avjot Sahota

Jaydon Atkins

Joshua Okeefe

Chayson Dosanjh

Rhys Caverly

GOALIES

Evan McCune

Matteo Petrelli

FORWARDS

Alex Hodgkinson

Trevor O'Reilly

Jayson Beauregard

Matthew Burry

Evan Clare

Jake Wightman

Arman Dosanjh

Jevon Chahal

Tanner Medway

Nicholas Sebellin

Adil Bajwa

Mateo Prodanovic

DEFENCE

Keegan Prophet

Jake Vorlicek

Parmvir Mann

Harkirat Gill

Amaan Mangalji

Fatehuir Samra

GOALIES

Steven Wade

Joshua Dougla